Dr. Dana Coberly is a board-certified plastic surgeon who has devoted her career to helping individuals enhance their appearance and feel more confident about the way they look. Trained and educated at some of the most respected and prestigious medical institutions in the nation, Dr. Coberly has been performing surgical and non-surgical aesthetic enhancement procedures for many years and approaches every customized treatment with the goal of producing results that look both beautiful and natural.
Below you will find a summary of Dr. Dana Coberly's educational background, professional experience, and some of her personal achievements and interests. If you have questions, or if you would like to schedule a consultation here at Coberly Plastic Surgery & Med Spa, please contact us today.
"Some people only know one way of giving – with both hands, with all their hearts, and without a second thought. Thank you for being one of those people."
Meet Dr. Coberly
Board-Certified Plastic Surgeon
Dr. Coberly completed her general surgery training at the University of South Florida. She devoted a year to research focusing on skin wound healing and laser skin resurfacing at the prestigious University of Texas Southwestern Medical Center in Dallas. Dr. Coberly continued her training in the UT Southwestern Plastic Surgery Program, considered one of the foremost cosmetic plastic surgical training programs in the country. She received extensive training and experience in laser skin treatments and skin rejuvenation, and looks forward to combining her experience with innovative new therapies to optimize your results. 
Dr. Coberly is skilled with a wide variety of plastic surgery and non-surgical treatment options, including breast surgery, body sculpting surgery, facial plastic surgery, and medical spa procedures. 
Philosophy of Care
When you make the decision to undergo plastic surgery or non-surgical cosmetic enhancement, you are placing an enormous amount of trust in your treatment provider that they will perform the procedure as safely and effectively as possible. Dr. Coberly does not take that trust for granted. Ethics, safety, attentiveness, and compassion are the cornerstones of her philosophy of care for every individual who walks through our doors. Dr. Coberly makes it a high priority to treat all patients with respect and dignity, and emphasizes the necessity of providing honest and thorough communication at all times. She truly listens to our patients' needs and concerns, and establishes realistic expectations for the outcomes that can be achieved. Dr. Coberly believes in providing comprehensive information to patients regarding the intricacies of treatment, the potential advantages and possible disadvantages, the risks associated with specific procedures, and what patients can expect before and during the procedure, as well as during the recovery process and beyond. She encourages you to ask any and all questions you may have, and to see this collaboration as a genuine partnership between doctor and patient.
There is no "one-size-fits-all" approach at our practice—all procedures are custom-designed for the needs and goals of each patient. Ultimately, Dr. Coberly's goal is to provide the safest possible care utilizing state-of-the-art techniques and a personalized treatment plan that can meet your expectations with results that look natural.
Leadership
Dr. Coberly is a past President of the Tampa Bay Society of Plastic and Reconstructive Surgeons.
Education
With an extensive history of training and education, Dr. Coberly has studied with some of the leading innovators in the fields of medicine, plastic surgery, and reconstructive surgery. Her educational experience includes:
1989-1993 Oklahoma State University, Stillwater, OK. Bachelor of Science, Pre-Veterinary Medicine

1993-1997 University of Iowa, Iowa City, IA. Doctor of Medicine

1997-2000 University of South Florida, Tampa, FL. General Surgery Residency

2000-2001 University of Texas Southwestern, Dallas, TX. Plastic Surgery Research Fellow

2001-2003 University of Texas Southwestern, Dallas, TX. Plastic Surgery Residency
Board Certification
Dr. Coberly is certified by the American Board of Plastic Surgery. This distinction signifies that Dr. Coberly has gone well beyond the basic requirements necessary to become a practicing plastic surgeon and that she has proven her commitment to exceptionally high standards of care and ethics when treating patients.
What Is the Importance of Board-Certification for a Plastic Surgeon?
The American Board of Plastic Surgery is a medical specialty organization that has established rigorous examination and experience requirements for certification of plastic surgeons. To perform plastic surgery, one does not have to be certified by the ABPS—certifications are generally given only to plastic surgeons who have obtained extensive continuing education and training beyond that which is required to practice. Surgeons who are seeking ABPS certification must pass intensely challenging written and oral exams to prove their level of skill, knowledge, and experience, and must also prove their commitment to safety, ethics, and the highest quality of care. Once a plastic surgeon is board-certified, they must repeat the examination and evaluation process every 10 years to maintain their certification.
Dr. Coberly is very proud to be a board-certified plastic surgeon, as she believes this distinction is another way of assuring our patients that they will be receiving care from a doctor who is strongly committed to their safety and to exceptionally high standards of ethics and experience.
Awards & Honors
Throughout her career, Dr. Coberly has earned numerous distinctions for her work. Here are a few of her most prominent honors:
Plastic Surgery Residency: 
Chief Resident Research Award
Plastic Surgery Educational Foundation Scientific Essay Contest Investigator Award, Third Prize, Co-Author, 2001 
General Surgery Residency: 
Medical School: 
Medical Student Research Fellowship
Ruth Johnson Memorial Scholar
Delegate to American College of Surgeons Clinical Congress Medical Student Program 
Undergraduate: 
Presidents Distinguished Scholar
Regents Distinguished Scholar
Alpha Zeta Scholar
Flemming Memorial Scholar
Pi Delta Sigma Honor Society
Golden Key National Honor Society
Top Five Senior in Animal Science 
What Is a Plastic Surgeon?
Plastic surgeons are medical doctors who have undergone additional training and education in the specialty of plastic and reconstructive surgery. In general, plastic surgeons have been trained to perform procedures that can not only enhance one's physical appearance, but also reconstruct certain body areas afflicted by trauma or other conditions in order to improve both aesthetics and function. Plastic surgeons have extensive knowledge of biology and human anatomy, and they have been trained in techniques that can modify tissues and other anatomical structures to enhance aesthetics and/or restore functionality. They should have a detailed understanding of aesthetic proportions, balance, and symmetry among body contours and facial features to provide results that look as natural as possible. While the terms "plastic surgeon" and "cosmetic surgeon" are sometimes used interchangeably, it is important to understand that there can be a distinction. A doctor who provides cosmetic treatments and refers to themselves as a "cosmetic surgeon" may not necessarily be an official plastic surgeon, which makes it crucial to research a prospective doctor's list of educational accomplishments and credentials to ensure they have achieved the necessary training to provide plastic surgery procedures.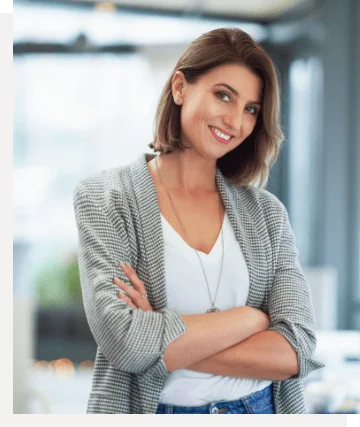 Why Should I Choose a Female Plastic Surgeon?
A very large number of plastic surgeons are men, and there is no question that many male plastic surgeons offer excellent care. However, since women make up the greatest majority of patients who undergo plastic surgery and cosmetic enhancement (although these treatments are indeed becoming more and more popular among men every year) a female plastic surgeon can provide a unique approach. It is vital that patients feel comfortable with their plastic surgeons, and for many women, it can be a bit easier to have honest conversations about their concerns with other women. Female plastic surgeons have likely shared many of the physical alterations and aesthetic frustrations that can befall female individuals who have experienced those effects through pregnancy and breastfeeding, the natural process of aging, and other changes that have unique impacts on a woman's appearance. Self-consciousness associated with the aesthetics of female anatomy, the inability to fit into the clothing of one's choice, concerns about anatomical areas relating to sexual intimacy, and other factors distinctive to women are issues that many female plastic surgeons can personally identify with, allowing them to genuinely understand where a patient is coming from and the effects these concerns can have on a woman's self-image.
With all of this in mind, regardless of the doctor's gender, it is very important to understand that each patient should feel comfortable and confident in their surgeon's abilities, skills, and approach to care. Whether the plastic surgeon is male or female, the most important things to consider are their level of experience, their record of successful results, their educational background and certifications, their communication and overall approach, and your trust in their ability to provide you with safe and effective treatment.
How to Choose the Best Plastic Surgeon for You
There are several things to consider during the search for a plastic surgeon for whom you feel is best for your unique needs and concerns. First, a thorough review of the prospective plastic surgeon's experience, credentials, and educational background is necessary. This information is often available on the practice's website. Board-certification, membership to major plastic surgery organizations, extensive training, and a philosophy of care that matches what you are expecting are aspects of a plastic surgeon that should be under consideration. If there are questions you still have about the surgeon, you should not hesitate to contact the practice with additional inquiries. A look at plastic surgery before-and-after photos and reviews of the plastic surgeon can also be of benefit. This can give you an idea of the types of results for which the doctor is capable, as well as a general understanding of what other patients have experienced at the practice. Finally, once you have narrowed down your selections to a few plastic surgeons, it is best to meet with them individually for a consultation to evaluate your rapport. If you feel they are answering your questions honestly and thoroughly while listening attentively to your needs and goals, and you feel confidence in their capabilities and qualifications, you may have found the right plastic surgeon for you. However, you should always remember that this is a major decision, and your level of trust in the doctor is of paramount importance. Never be hesitant to make sure all your questions are answered and all your concerns are being thoroughly addressed before deciding on the plastic surgeon who will be caring for you.
Dr. Coberly's Bibliography
Dr. Coberly has contributed to a variety of medical journals and articles, including:
S Thompson, J Canady, DM Coberly, et al. Effects of TGFЯ on Collagen Synthesis in Cultured and Normal Fetal Mouse Palates. Cleft Palate-Craniofacial Journal,36:5, 1999
RJ Rohrich, DM Coberly, J Kreuger, SA Brown. Planning Elective Operations on Patients who Smoke: Survey of North American Plastic Surgeons, Plast. Reconstr. Surg, 109:1;350-355, 2002 Referenced in Family Circle.
S Brown, D Coberly, R Rohrich, J Chao. Gene Bank Accession #AF508348.1, GI:21321582. Rattus norvegicus platelet-derived growth factor C mRNA, partial cds. 2002.
O Khodaparast, DM Coberly, J Mathey, RJ Rohrich, LS Levin, SA Brown. Effect of a transpositional muscle flap on VEGF mRNA expression in a canine fracture model. Plast Reconstr Surg. Jul;112(1):171-6. 2003
RJ Rohrich, DM Coberly, S Fagien, JM Stuzin. Current concepts in aesthetic upper blepharoplasty. review. 
Plast Reconstr Surg. 2004 Mar;113(3):32e-42e
SA Brown, DM Coberly, M Coimbra, JJ Chao, RJ Rohrich. Oral nutritional supplementation accelerates skin wound healing: a randomized, placebo-controlled, double-arm, crossover study.Plast Reconstr Surg. 2004 Jul;114(1):237-44
Dr. Coberly's Presentations
Presenting clinical research to other professionals in medicine and plastic surgery is an extremely important component of information sharing and helping the field advance. Some of Dr. Coberly's presentations include:
Jejunal Cannulation with a Pyloric Cannulator via Stamm Gastrostomy. D Coberly, C Doherty, M Winkler. Poster Presentation – American College of Surgeons Clinical Congress, Chicago, 1997
Deciding on Elective Operations on Smoking Patients: Survey of North American Plastic Surgeons. R Rohrich, D Coberly, J Kreuger, S Brown, Annual Meeting of ASAPS & ASERF, New York, 2001
Platelet Derived Growth Factor-C (PDGF-C) in Wound Healing. D Coberly, J Chao, S Brown. Plastic Surgery Research Council, Milwaukee, 2001
Platelet Derived Growth Factor-C (PDGF-C) in Wound Healing. D Coberly, J Chao, S Brown. Texas Society of Plastic Surgeons, Dallas, 2001
Platelet Derived Growth Factor-C (PDGF-C) Expression in Diabetic Wound Healing, D Coberly, J Chao, M Coimbra, S Brown. Plastic Surgery Research Council, Boston, 2002.
Platelet Derived Growth Factor-C (PDGF-C) Expression in Diabetic Wound Healing, D Coberly, J Chao, M Coimbra, S Brown. Texas Society of Plastic Surgeons, Houston, 2002.
Efficacy of Nutritional Supplementation in Wound Healing. D Coberly, SA Brown Coimbra, J Chao, R Rohrich. Senior Residents Conference, Las Angeles, 2003.
Oral Enzyme Product Accelerates Wound Healing, D Coberly, SA Brown, M Coimbra, J Chao, R Rohrich. Plastic Surgery Research Council, Las Vegas, NV, 2003. 
Contact Dr. Coberly
If you would like to learn more about Dr. Coberly and the treatments we offer, or if you are ready to schedule a consultation, please contact our office today.