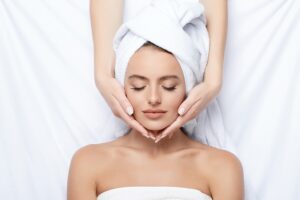 The innovative Glo2 Facial by Geneo™ has been deemed a "super-facial" and "The Facial of the Future", and our team here at Coberly Plastic Surgery & Med Spa can attest to its remarkable rejuvenating power. This non-surgical treatment provides oxygenation, exfoliation, and nourishment to the skin to renew both dermal health and appearance. With the inclusion of "OxyPods" as part of this three-step facial, Glo2 Facial treatment introduces all-natural enrichment ingredients that are capable of helping the skin renew itself. Ultimately, the Glo2 Facial is designed to diminish signs of age and improve an array of other common concerns to give the skin a healthier, more youthful glow. 
What Concerns Can the Glo2 Facial by Geneo™ Treat? 
The Glo2 Facial utilizes a patented oxygenation technique that can help produce increased oxygenation in the dermis, enabling easier absorption of serums that can nourish and replenish the skin. Here are some of the major potential benefits offered by this non-invasive treatment: 
Reduction in signs of fine lines and wrinkles 
Improvement in skin texture and tone 
Improvement in elasticity and firmness of the skin 
Improvement in signs of sun damage 
Treatment of excessively dry or oily skin 
No downtime necessary 
Initial results are typically noticeable shortly after treatment 
Additionally, the Glo2 Facial can be effective for both women and men of virtually all skin types, and it can be performed as a standalone procedure or as part of a treatment plan that incorporates other non-surgical med spa treatments for more comprehensive skin renewal. 
What Can I Expect During the Glo2 Facial Treatment Process? 
Before your facial begins, a member of our team will evaluate your skin to determine whether the Glo2 Facial by Geneo™'s Balance Facial, Illuminate Facial, Hydrate Facial, Revive Facial, or Detox Facial will serve as the best option for your goals, and your customized treatment plan will then be developed. During the three-step Glo2 Facial, your skin will be oxygenated with the advanced OxyPods component of the treatment. The precise type of OxyPods utilized will be based on the particular Glo2 Facial option you will receive, as each OxyPod is formulated for specific concerns. Following the introduction of the OxyPods, our experienced provider will guide an ultrasound device over the skin to create micro-vibrations within the dermis. This part of the process can help the skin more effectively absorb the nourishing serums and enhance smoothness. The treatment ends with a "Neo-Massage," which can also help infuse the skin with the nourishing ingredients while simultaneously working to diminish puffiness. 
The Glo2 Facial can be performed right here at our office and usually takes approximately one hour to complete. No recovery period is typically required after the Glo2 Facial, which can often make it an ideal "lunchtime" treatment for individuals who want to get right back to their daily routines afterward. 
If you would like to learn more about the Glo2 Facial, or if you are ready to schedule a consultation to find out whether this "Facial of the Future" is right for your needs, please don't hesitate to contact us today.