What is Sclerotherapy?
Sclerotherapy is medical procedure used to eliminate varicose and spider veins. Sclerotherapy involves an injection of a solution (generally a salt solution) directly into the vein. The solution irritates the lining of the blood vessel, causing it to collapse and stick together and the blood to clot.
Are You Tired of Hiding Your Legs? We Have the Solution for You!
During a Sclerotherapy session for cosmetic spider veins tiny injections with a solution Asclera cause the unsightly, surface vein to almost disappear in front of the patient's eyes. Patients can generally experience a 40% improvement in the aesthetic appearance of spider veins after each Sclerotherapy session. Depending on the patient's condition and cosmetic goals, Dr. Dana Coberly—our plastic surgeon—typically recommends 2-3 sessions about four weeks apart, lasting approximately thirty minutes each to achieve optimal results.
Dr. Coberly specializes in the treatment of leg vein disorders and conditions, and has achieved a phenomenal success rate in eliminating spider veins using Sclerotherapy and occasionally lasers as a backup device for refractory red vessels. Our number one goal is to restore a healthier, more youthful appearance to our patients' legs.
Please contact our office to schedule a consultation for Sclerotherapy and other treatment options for spider and varicose veins.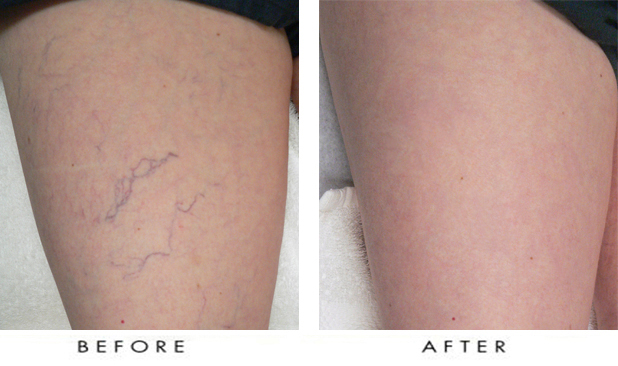 *Keep in mind that each patient is unique and your results may vary. Photos in our online gallery are of actual patients of our practice who have provided consent to display their pictures online.