Tummy tuck surgery (abdominoplasty) is a popular cosmetic enhancement procedure designed to recontour the abdomen by removing excess skin, tightening abdominal muscles, and pulling the remaining skin taut for a flatter, firmer look. It is very common among both women and men to develop collections of loose, excess skin in the abdominal area, even if they maintain excellent diet and exercise regimens. Pregnancy, significant weight loss, heredity, and even just the natural aging process are often causes of these concerns. With tummy tuck surgery, our board-certified plastic surgeon, Dana Coberly, MD, can provide effective abdominal enhancement with exceptional results.
What Are the Benefits of Tummy Tuck Surgery?
Abdominoplasty has remained one of the most frequently performed cosmetic surgeries for many years. This procedure can benefit patients who are looking to:
Reduce lax, overhanging abdominal skin
Obtain tighter abdominal muscles and a more fit-looking stomach area
Achieve an improved fit while wearing certain types of form-fitting clothing
Restore abdominal contours following pregnancy or weight loss
Tummy tuck surgery can be particularly advantageous for women who experience excess abdominal skin and stretched or torn abdominal muscles after pregnancy. This procedure is capable of renewing one's self-confidence in their appearance with results that can last many years with the proper care.
During your initial consultation with Dr. Coberly, she will evaluate the condition of your skin and talk with you about your concerns. If you are an ideal candidate for tummy tuck surgery, Dr. Coberly can develop a customized treatment plan designed to meet your goals and expectations.
Tummy Tuck Before-and-After Photos
"Thank you for being so kind to help with my stomach! I feel so much better about myself already! 5 stars! You are amazing!"
Tummy Tuck vs. Liposuction
Tummy tuck surgery and liposuction share one prominent thing in common: they are both procedures that have successfully proven over the course of many years to offer remarkably effective options for abdominal contouring. However, the many differences between these popular treatments are the reasons why one is often recommended over the other based on the cause of a patient's particular concerns. In some cases, a combination of both tummy tuck surgery and liposuction may be the best option.
A tummy tuck is designed to remove excess skin, tighten and repair (if necessary) underlying abdominal muscles, and redrape the remaining abdominal skin to create a restored contour in the area. The focus of liposuction is quite different. Liposuction removes excess fat that has collected in the abdominal region. While liposuction can provide significant aesthetic benefits, it will not have any effect on loose, excess skin in this area. During the initial consultation, Dr. Coberly can examine the source of the concern and determine whether tummy tuck surgery or liposuction is the appropriate treatment option. For many patients, the abdominal concerns are caused by both excess skin and fat, so liposuction can be performed in tandem with tummy tuck surgery to provide more comprehensive abdominal contouring.
Full Tummy Tuck vs. Mini Tummy Tuck
There are two basic versions of tummy tuck surgery: the full tummy tuck and the mini tummy tuck. The full, "standard" tummy tuck is typically more appropriate for individuals who have significant degrees of muscle laxity and excess, inelastic skin affecting the abdomen. Patients with aesthetic abdominal concerns that are less severe in nature and are primarily occurring in the area below the navel may be good candidates for a mini tummy tuck. The incision required for mini tummy tuck surgery is smaller when compared to a full tummy tuck, and many patients experience quicker periods of downtime after a mini tummy tuck. With that in mind, it is important to note that not all patients will be candidates for a mini tummy tuck. The recommended procedure will depend on the patient's specific treatment goals and the abdominal evaluation that will be conducted during the initial consultation.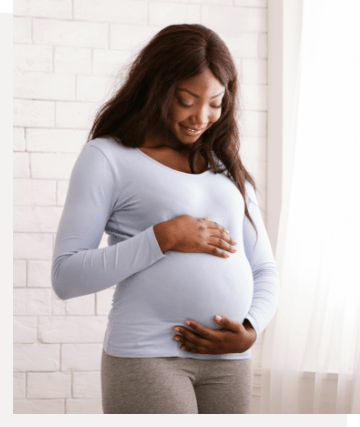 Tummy Tuck and Pregnancy
Dr. Coberly typically recommends waiting to undergo an abdominoplasty until the patient feels their family is complete. The cycle of pregnancy and childbearing can often cause abdominal muscles to stretch, produce excess skin in the midsection, and may increase weight fluctuations, which can impact the results of the procedure. Should you become pregnant after having this treatment, an additional tummy tuck may be necessary to restore the results of the initial surgery.
It should also be noted that tummy tuck surgery generally does not prevent a patient from becoming pregnant or the ability to carry a successful pregnancy. Please be sure to talk with Dr. Coberly about your plans if you are thinking about a future pregnancy.
Can a Tummy Tuck Get Rid of Stretch Marks?
Stretch marks located in the lower abdomen, usually between the naval and pubic area, can often be eliminated or reduced as the skin in this region is typically removed during a traditional tummy tuck. During your consultation, Dr. Coberly will examine your stretch marks and determine if those concerns can be improved through the tummy tuck procedure. If not, she can talk with you about possible alternative options.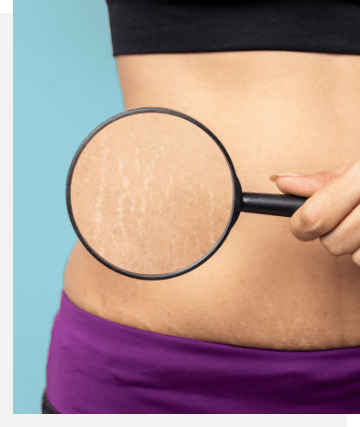 What Does the Tummy Tuck Procedure Involve?
Tummy tuck surgery can be performed on an outpatient basis for some patients; however, others may be advised that an overnight hospital stay is necessary. General anesthesia will be required for this treatment. During a full tummy tuck procedure, Dr. Coberly will delicately create an incision that goes from one hip to the other in the area above the pubic region. She will also make a smaller incision in the navel area in order to free the belly button from the tissues that surround it. This ultimately helps prepare the belly button for its final position. The abdominal muscles will be tightened (and repaired, if necessary), and excess skin will be trimmed. The remaining abdominal skin will then be tightened and smoothed to create a flatter look and an enhanced contour. If liposuction is included in the treatment plan, it can typically be performed simultaneously with tummy tuck surgery.
What Is Recovery from a Tummy Tuck Like?
Most individuals who undergo a full tummy tuck surgery will need approximately two weeks of recovery at home before returning to their normal daily routines. Swelling and bruising are two of the most common side effects following the operation. These effects should diminish as the abdomen continues to heal, and medication can be prescribed to minimize discomfort during the recovery process. Dr. Coberly will provide detailed post-operative instructions with specific recommendations for each patient. In most cases, patients will be advised to refrain from strenuous exercises/activities—especially those that could apply pressure or strain to the abdomen—for a minimum of six to eight weeks after tummy tuck surgery.
How Noticeable Are the Scars from Tummy Tuck Surgery?
Abdominoplasty requires major surgery and will therefore result in noticeable scars in the abdominal region. It is important to note that, while tummy tuck surgery will produce visible scarring, Dr. Coberly is extensively experienced with this procedure and will carefully suture the area in ways designed to minimize the appearance of the scars as much as possible. Additionally, tummy tuck scars should fade to some extent over time, and they can often be easily hidden under clothing. Even many types of swimwear can conceal tummy tuck scars.
How Long Do the Tummy Tuck Results Last?
Tummy tuck results can last well into the future as long as some basic lifestyle precautions are taken. Maintaining a healthy diet and exercise routine, minimizing (or avoiding) consumption of sugary drinks and alcohol, and limiting weight fluctuations can significantly increase the potential for tummy tuck outcomes to last for many years.
How Much Does a Tummy Tuck Cost?
A full tummy tuck procedure is unique to the individual patient based on their customized treatment plan; therefore, the cost of abdominoplasty often varies. Factors that will go into the treatment plan include the extent of treatment necessary to reach the patient's goals, whether liposuction or other procedures are performed along with tummy tuck surgery, whether an overnight hospital stay is required, the surgeon's fee, costs associated with anesthesia and the operating facility, and other components. Our practice will provide you with a full cost estimate of the tummy tuck procedure once your treatment plan is created during the initial consultation. Coberly Plastic Surgery & Med Spa accepts many convenient forms of payment, including plastic surgery financing plans available to qualified applicants through CareCredit® or PatientFi™. A member of our team can answer any questions you may have about payment options and assist you with determining the way to pay for your tummy tuck procedure that works best with your budget.
Are There Any Non-Surgical Tummy Tuck Alternatives?
If your goal is to remove excess skin and tighten/repair abdominal muscles, it is simply not possible to do so without surgery. There have been claims that devices such as the Tummy Tuck Belt®—which is a girdle-like product intended to bind the abdominal area and therefore slim the appearance of the midsection over time—are non-surgical tummy tuck alternatives that can provide similar results. However, these types of devices cannot eliminate excess skin or tighten and repair loose abdominal musculature the way tummy tuck surgery can. Abdominoplasty is the only effective way to reduce loose skin and address torn or overly stretched muscles in the abdomen. However, there are non-surgical alternatives that may help if the primary goals are to reduce fat or achieve some degree of recontouring in the midsection.
For patients struggling with excess belly fat who could benefit from a non-invasive alternative to surgery, Dr. Coberly may recommend CoolSculpting®. This method cools targeted excess fat cells, which are then naturally broken down during the body's metabolic process over time, without requiring any incisions, anesthesia, or significant recovery time. For mild to moderate cases, CoolSculpting® can help many patients reduce fat bulges and sculpt the abdominal region on a smaller scale. Dr. Coberly can discuss this option with you during the consultation and determine whether you may be an ideal candidate.
Additional Frequently Asked Questions About Tummy Tuck Surgery
Is a "Tummy Tuck Belt®" effective?
Devices such as the Tummy Tuck Belt® and similar products are not capable of achieving the same kind of results as a surgical tummy tuck. The reason for this is that a tummy tuck is designed to remove excess skin, repair or tighten abdominal musculature, and redrape the skin that remains to create firmer results and a flatter contour. At this time, many of those goals cannot be achieved without surgery; therefore, the only effective remedy for significant loose, excess skin and lax/torn musculature in the abdomen is likely an abdominoplasty. With that in mind, some patients may have concerns that could benefit from alternative procedures. Once Dr. Coberly has evaluated your needs, she can talk with you about the best possible solutions.
Should I worry about weight gain after a tummy tuck?
While the results of a tummy tuck are intended to be long-lasting, future weight gain and weight fluctuations, as well as the natural aging process, can alter the surgical results. For a more lasting outcome, Dr. Coberly recommends maintaining a healthy lifestyle and stable weight with proper diet and exercise to preserve your new body contours for as long as possible.
Can a tummy tuck get rid of a C-section scar?
This will depend on the location of your C-section scar. If the scar is located just below the navel or in the lower midline, or if the excess abdominal skin hangs over the scar, there is a better chance the tummy tuck procedure may remove the C-section scar. During your initial consultation, Dr. Coberly will be able to examine your entire abdominal area and discuss possible options for achieving the best outcome. Dr. Coberly can also demonstrate where the new tummy tuck scar will likely be positioned, which is usually very low and often concealed by undergarments.
Does a male tummy tuck differ from a female tummy tuck?
The surgical techniques used during a tummy tuck procedure are typically the same for men and women, as well as the preferred desirable outcome of tightening musculature and removing excess skin. In general, it is more common for females to prefer a slender, curved appearance while men like to emphasize more abdominal definition. Regardless of gender, each patient will receive a surgical treatment plan designed by Dr. Coberly based on their personal aesthetic goals and natural anatomy.
Is there a risk of tummy tuck complications?
Due to their nature, all surgical procedures involve some degree of risk. However, choosing a board-certified plastic surgeon – meaning the surgeon has undergone extensive post-graduate training and upholds a solid record of successful patient outcomes – maximizes the chances for a safe outcome. During your abdominoplasty consultation, Dr. Coberly will examine your health and provide a thorough explanation of the procedure, as well as any possible risks associated with tummy tuck surgery. Dr. Coberly has performed tummy tuck surgeries many times and will take the necessary precautions to reduce the potential for complications. We are available to answer any questions you may have and address any concerns before or after your surgery.
Would you like to learn more about tummy tuck surgery or other advanced body contouring options? Please don't hesitate to contact us for additional information, or to schedule a consultation with Dr. Coberly.