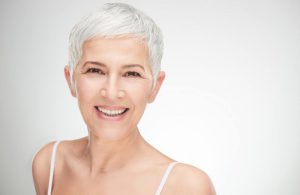 Patients often seek cheek lifts as a complementary procedure to a face lift. It restores confidence by reducing the signs of aging in the central part of the face – something you will really notice when you smile – and the recovery time is relatively short, making patients not have to wait long to show off their fresh look.
The reason face lift patients will get a cheek lift is that a face lift focuses on restoring the neck, lower jaw, and jawline. Cheek lifts address the central part of the face. The two procedures combined leave patients with smoother skin and a natural rested look.
How Are Cheek Lifts Performed?
You can see the signs of aging most readily under the eyes, where the skin on the lower eyelid meets the cheek. That area should blend naturally, but the aging process can cause a line between the two.
When you are not smiling, you can see a line form between the eyelid and the cheek. Fat can bulge out in the lower eyelid. The skin there may also become loose and wrinkled. This makes the line look even deeper.
In the cheek lift procedure, the cheek tissue is raised back up where it used to be, and it stays in place. It makes the skin smoother and gives you a much more rested look. A blepharoplasty (eyelid lift) removes the loose skin in the lower eyelid, as well as the bulging fat. A cheek lift then raises the cheek tissue higher, using the same incision as that used for the lower eyelid lift.
Not much fat is removed. Instead, cheek tissue is repositioned. This creates a smooth, youthful look. The line between the cheek and the lower eyelid is reduced or eliminated. This can best be seen in the results from actual patients.
The procedure is typically outpatient and lasts about three hours.
How Long Is Recovery From a Cheek Lift?
The incision is under the eyelashes and sutures are taken out between five and seven days after the procedure. Typically, there is very little postoperative discomfort.
In some cases, swelling may last for two to four weeks. In some (rare) cases, the swelling might last longer. For most patients, they can resume regular activities in about four weeks.
How Long Until You See Cheek Lift Results?
This can vary by patient, but usually, it takes about six months to see the final results of a cheek lift. The good news is the results are forever. However, every patient can have a different result. Every face is unique!
It's important to consult with an experienced plastic surgeon before seeking a cheek lift or any type of procedure. They can assess your situation and set proper expectations for results of the procedure. For most people, a cheek lift – combined with a face lift – can reverse the aging process and restore a smooth, healthy and youthful look. That's a confidence booster for any patient.
Previous Post
Next Post