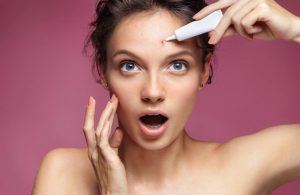 At some point in their lives, almost everyone has a case of acne and wants to get rid of it as fast as possible. Don't worry, there are many ways to get rid of acne, including home remedies, over the counter products, dietary changes, knowing what not to do, and professional treatments such as blue light therapy, silk peels and Obagi Clenziderm System.
The main thing to know is that you have options. It's not the end of the world! The following provides some tips on how to get rid of acne.
How NOT To Get Rid of Acne
We better start here, because so many people are tempted to do everything we are about to list. Everything in the bullet points below can cause acne to worsen and even spread. Do not do these things.
Pop the acne pimple
Scratch acne
Touch your face frequently
Freak out (some studies have found that stress leads to worse cases of acne)
Now, read on to see what you should do.
Common Home Remedies for Acne
In some cases, acne will respond to simple home remedies. Ideas are everywhere on the Internet, which is a testament to the fact everyone goes through this. Some of the most popular ideas are treating the area with aloe, jojoba oil, honey, apple cider vinegar or tea tree oil. In most cases, these will likely not work – but it's worth a shot.
Store-Bought Products
Most of these come in the form of face wash or medicine you apply to the acne. Most people try a combination of both. Companies such as Neutrogena, La Roche-Posay and Cetaphil offer over-the-counter lotions and face washes to get rid of acne.
Foods to Avoid
There is so much misinformation out there about this. We stick to what the doctors say on Web MD, which is pretty good advice and also very straightforward. Among the foods that may lead to increased chances of acne are skim milk, foods with high sugar and carbs, and some forms of chocolate. However, oily foods are not an issue – for acne, anyway! Foods that may lessen the chance of acne include high-fiber foods, salmon, nuts and oysters.
Blue Light IPL Acne Therapy
This professional acne treatment involves using blue light to kill the bacteria that causes acne. The bacteria is called Propionibacterium acnes, and it causes inflammation. However, it's sensitive to blue light, which can eliminate the bacteria from the oil glands and cause the glands to shrink in size.
Acne Silk Peel
This procedure involves using salicylic acid to improve inflammatory and non-inflammatory acne blemishes by unclogging follicles. The procedure is used to cause faster healing of acne lesions. The silk peel procedure exfoliates damaged and irritated skin, cleanses the skin and follicles and delivers antimicrobial active ingredients to the base of the follicle where acne develops.
Obagi Clenziderm System
This is an advanced system used by people with acne-prone skin. It is specifically formulated to treat normal to oily skin by treating acne at the base of the follicle where it starts. Typically, it includes a daily foam cleanser, pore therapy and a lotion that removes excess dirt and oil.
So, as can be seen, there are many solutions to the acne problem. Most people start at the top of the list and make their way down until finally deciding to contact an acne professional. Whatever you chose, just know that treatments are available that can help you get rid of acne with relative ease.
Previous Post
Next Post