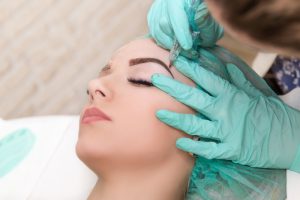 Permanent eyebrow makeup has increased in popularity in recent years, as it offers a safe, proven way to have long-lasting and natural looking eyebrows. The process involves placing cosmetic tattoo pigment beneath the skin using microblading, which creates thin hair-like features for the eyebrows.
It's a process more women are turning to in order to maintain beautiful eyebrows as they get older and their eyebrows thin. In some cases, patients get permanent eyebrow makeup because of defects in their own brows and to reshape their eyebrows. .
Whatever the case, microblading can provide patients with beautiful, low-maintenance eyebrows that are there from the moment they wake up in the morning!
How Permanent Eyebrow Makeup Works
Permanent eyebrow makeup simply makes you look like you are always wearing makeup. It's especially beneficial for those with thin eyebrows.
In practice, it's always been a bit like getting a tattoo. Pigment is applied with a hollow needle that releases color into the skin. Before the procedure, patients meet with professionals to determine the exact color of pigment they want. Also, a sketch is made of where the pigment will be placed.
In most cases, patients will return for a touch up. It takes a few weeks for the pigment to fade to the color that the patient wanted.
Microblading
Microblading takes permanent eyebrow makeup to a new level.
Microblading refers to the process of using a special tool to place the pigment under the skin. The blade is small tool that has ultra-fine needles that used to etch hair-like lines for the eyebrows. It allows for more detailed and refined work than the usual needle.
Using microblading, professionals can create eyebrows that looks more life-like. The process also can enhance or even reshape the current eyebrows. As with the needle, the pigment is deposited beneath the first layer of skin. But since it is not typically deposited as deep, it does not take as long to fade into the color chosen by the patient.
Eyebrows done by microblading are considered semi-permanent. They typically last between one to three years.
It can be used to enhance or reconstruct the current brows, which may thin due to age or over-tweezing. Professionals at a med spa can help patients choose the right pigment to match the natural color of the current brows. A patient's skin tone is considered when making decisions on the pigment, as well.
Working With a Professional
When finding the right location to get work down on your eyebrows, it's important to choose a professional with many years of experience in the business. Coberly Plastic Surgery and Med Spa, which offers a wide range of services, is one such place. Dr. Coberly and her staff have worked for many years with patients in the Tampa Bay area.
Wherever you go, take the time to learn about microblading, and always consult with a professional before going forward with a procedure.
Previous Post
Next Post