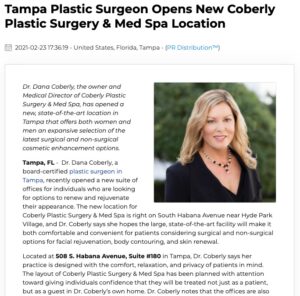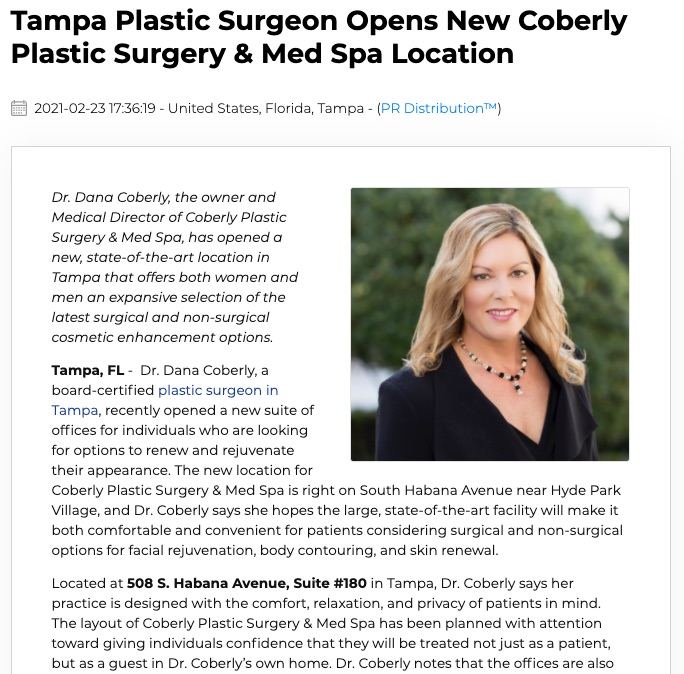 Dr. Dana Coberly, the owner and Medical Director of Coberly Plastic Surgery & Med Spa, has opened a new, state-of-the-art location in Tampa that offers both women and men an expansive selection of the latest surgical and non-surgical cosmetic enhancement options.
Tampa, FL – Dr. Dana Coberly, a board-certified plastic surgeon in Tampa, recently opened a new suite of offices for individuals who are looking for options to renew and rejuvenate their appearance. The new location for Coberly Plastic Surgery & Med Spa is right on South Habana Avenue near Hyde Park Village, and Dr. Coberly says she hopes the large, state-of-the-art facility will make it both comfortable and convenient for patients considering surgical and non-surgical options for facial rejuvenation, body contouring, and skin renewal.
Located at 508 S. Habana Avenue, Suite #180 in Tampa, Dr. Coberly says her practice is designed with the comfort, relaxation, and privacy of patients in mind. The layout of Coberly Plastic Surgery & Med Spa has been planned with attention toward giving individuals confidence that they will be treated not just as a patient, but as a guest in Dr. Coberly's own home. Dr. Coberly notes that the offices are also equipped with advanced technology and imaging capabilities that allow her to create fully customized treatment plans for each patient, which can ultimately help them meet their enhancement goals with results that look both beautiful and natural. "Our goal is to help our patients look refreshed, not look like they had something done."
With the continued popularity of cosmetic enhancement among both women and men, Dr. Coberly's practice has two major areas of focus: surgical procedures for patients who may benefit from more invasive treatment to address signs of age and to enhance body contours, as well as a broad selection of non-surgical aesthetic treatments that can help patients achieve their goals without the need for invasive procedures and extended recovery times. Surgical options include facelift, rhinoplasty, breast augmentation, liposuction, tummy tuck surgery, and many others. The Med Spa component of Dr. Coberly's practice offers non-surgical treatments such as BOTOX® Cosmetic and dermal filler injectables, laser skin resurfacing, DiamondGlow® dermalinfusion, facial peels, and even CoolSculpting® for non-invasive removal of excess fat in specific body areas. Dr. Coberly also offers a wide variety of medical-grade skin care products for individuals looking to enhance their home skin care regimens.
Dr. Coberly hopes the new location for Coberly Plastic Surgery & Med Spa gives patients a warm and inviting atmosphere that puts them at ease as they consider their options for aesthetic enhancement. With the spacious rooms and attention toward privacy, convenience, and comfort, Dr. Coberly says patients can feel more confident that their needs are being attended to and that they are receiving truly customized treatment from an experienced team with their best interests at heart. "We offer only medically-based treatments with proven results in a resort-style atmosphere, and we look forward to meeting you."
About Dana Coberly, MD
Dr. Dana Coberly is a board-certified plastic surgeon and the head of Coberly Plastic Surgery & Med Spa in Tampa, Florida. Dr. Coberly is a member of the American Society of Aesthetic Plastic Surgery and the American Society of Plastic Surgeons, and is a past President of the Tampa Bay Society of Plastic and Reconstructive Surgeons. She has conducted presentations of her research at plastic surgery meetings and symposia throughout the United States, and has contributed to a variety of plastic and reconstructive surgery publications. At her practice in Tampa, Dr. Coberly offers an extensive array of surgical and non-surgical procedures for the face, breasts, body, and skin. Dr. Coberly is available for interview upon request.
For more information about Dr. Dana Coberly and her plastic surgery practice, please visit drcoberly.com or facebook.com/CoberlyPlasticSurgery.
Contact:
Coberly Plastic Surgery & Med Spa
508 S Habana Avenue
Suite #180
Tampa, FL 33609
(813) 448-6550
Rosemont Media
(858) 200-0044
www.rosemontmedia.com
Previous Post
Next Post