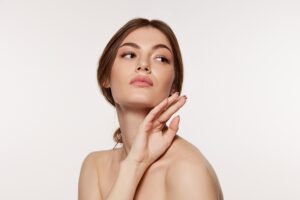 Cosmetic rejuvenation treatments can be ideal for patients looking to correct signs of aging and volume loss among facial features, and there are a variety of non-surgical options available. These include injectables that can smooth out wrinkles and enhance volume in a simple office visit. At Coberly Plastic Surgery & Med Spa, Dr. Dana Coberly offers BOTOX® Cosmetic and dermal fillers. These popular options are similar in that they are injectable solutions; however, how they work and what they can accomplish make them two very different kinds of treatment. Here are some of the major distinctions: 
BOTOX® Cosmetic – Aesthetic concerns typically targeted with BOTOX® Cosmetic (which is what is referred to as a "neuromodulator") include wrinkles and fine lines between the eyebrows, on the sides of the eyes, and along the forehead. The BOTOX® Cosmetic solution consists of a purified form of botulinum toxin type A, which temporarily relaxes underlying muscles, preventing the contractions that cause wrinkles to develop. Results from BOTOX® Cosmetic usually last for three to four months.
Dermal fillers – Many dermal fillers can smooth deep creases such as marionette lines, smile lines, and vertical lines near the mouth. Certain injectables can also enhance contour and definition of facial features, like the lips and cheeks, that have lost volume. While BOTOX® Cosmetic is a neurotoxin-based injectable, dermal fillers typically are not. Numerous dermal fillers contain hyaluronic acid, a naturally-occurring substance found in the body, and depending on which injectable is used, results may last anywhere from six to 18 months. Dermal fillers currently available at Coberly Plastic Surgery and Med Spa include JUVÉDERM VOLUMA®, JUVÉDERM VOLBELLA®, RADIESSE®, Bellafill®, and the Revance® RHA® Collection of Dermal Fillers. 
While BOTOX® Cosmetic and dermal fillers have their differences, it is important to note that neither option offers permanent results; however, follow-up appointments can help maintain the desired effects once they begin to fade. 
For more information on injectable facial rejuvenation treatments or other options, please contact our office to schedule a consultation. 
Previous Post
Next Post